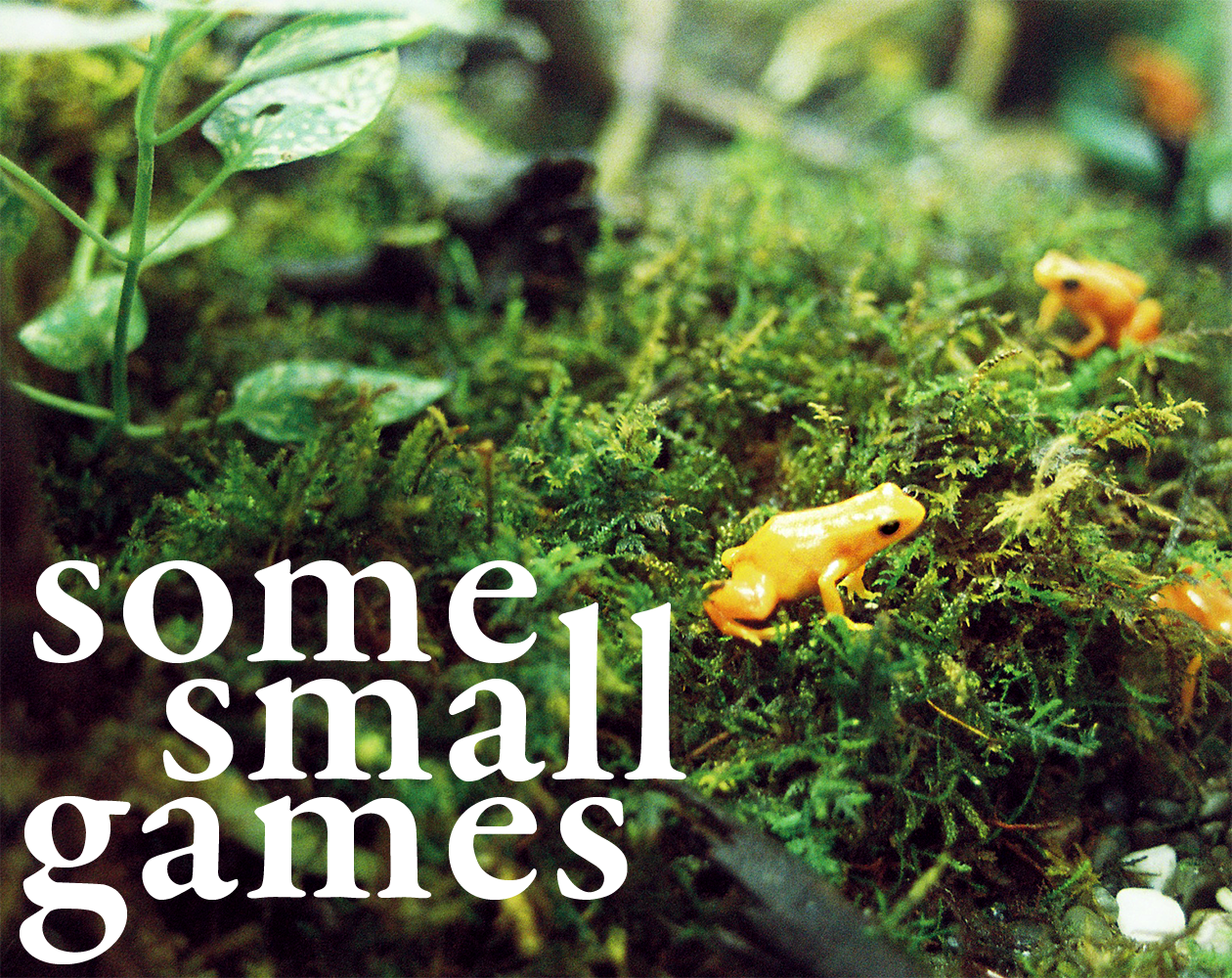 Some Small Games
This zine is a collection of some of my shorter games that don't go anywhere else in particular. This zine will be updated and change over time. The current edition includes the following games:
Painting the Sky With Stars: a game of creating constellations.
Inquest: a game of running from answers.
It's Dangerous to Go Alone: a game of preparation.
Pizza Pizza Panic: a cooperative racing game for multiple players.
Toastmaster: a game of oratory.
The Care and Feeding of Warriors: a game of tracking.
Hydration Zone: a game of self-care.
Afterward: a game of mourning.
Game Studies: a game of borders.
Falling: a game of collection.
Fidget Fighters: a game of bloody combat.
Concrete Blooming: a game of bursting.
There is No Magic Circle: a game of failure.
Crab Tag: a game of signifiers.
Calvinball: a game.
Spinning: a game of endings.
Poring Over the Bones of the Past: a game of object lessons.
Bait and Switch: a game of lying to your friends.
Replacement Grapple Rules: for use in Dungeons & Dragons, or any time you're playing pretend.
The Seer's Journey: a game of queries.
Zozo Has Prepared An Adventure: a game of dictation.
I'll Be Your Mirror: a game of reflection.
Infinite Onion: a game of burial.
Iron & Fire: a game of upkeep.
All of a Sudden I Miss Everyone: a game of ketchup.
Prices
PDF Version: $0.0025/word ($6.40)
Print Version: $0.40/gram ($11.60)
Purchase
In order to download this game you must purchase it at or above the minimum price of $6.40 USD. You will get access to the following files:
Some Small Games - 2021-06-10.pdf
631 kB
Physical & Community Copies
Support this game at or above a special price point to receive something exclusive.
Physical Copy
Select this to receive a printed copy of the zine in the mail.
Community Copy
Select this to claim a free community copy of the game.
One community copy will be added to the pool every time a payment of any amount is received.