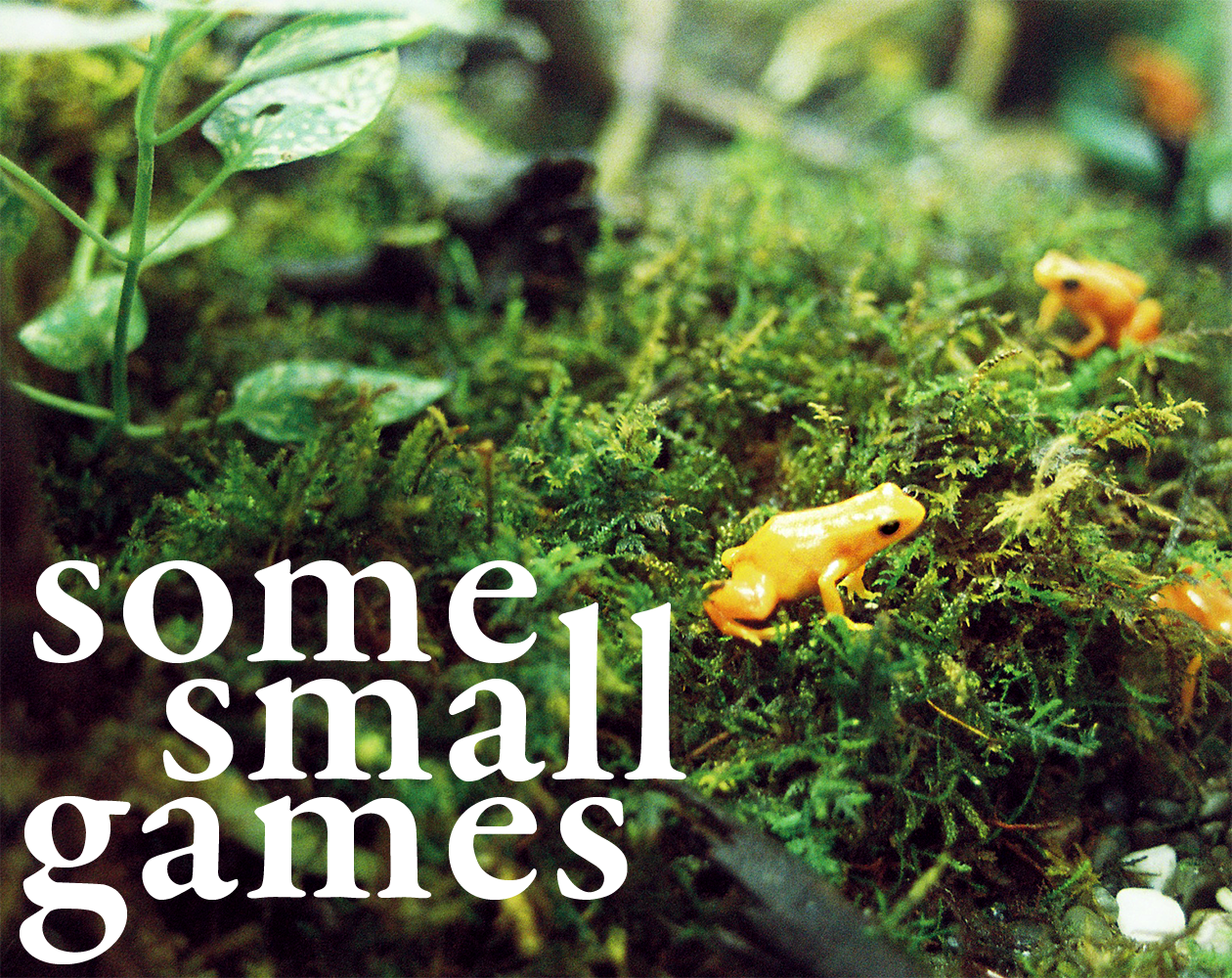 Some Small Games
This zine is a collection of some of my shorter games that don't go anywhere else in particular. This zine will be update and change over time. The current edition includes the following games:
Painting the Sky With Stars: a game of creating constellations.
Inquest: a game of running from answers.
Pizza Pizza Panic: a cooperative racing game for multiple players.
Game Studies: a game of borders.
There is No Magic Circle: a game of failure.
Toastmaster: a game of oratory.
Falling: a game of collection.
Fidget Fighters: a game of bloody combat.
Afterward: a game of mourning.
The Care and Feeding of Warriors: a game of tracking.
Hydration Zone: a game of self-care.
Wintering: a game of yearning.
Shards: a game of penance.
Spinning: a game of endings.
Mutual Enjoyment: a game of compersion.
Macchiato: a game of mistaken identities.
Muffin Quest: a game of culinary entertainment.
Rock Paper Chancleada: a game of discipline.
Coffee Grounds: a game of compost.
Water from the Well: a game of rearrangement.
Word Garden: a game of slow care.
Indexical: a game of speculation.
Picnic Please: a game of rejection.
A Distant Emperor: a game of dwindling hope.
Prices
PDF Version: $0.001/word ($2.84)
Print Version: $0.20/gram ($5.00)
Purchase
In order to download this game you must purchase it at or above the minimum price of $2.13 USD. You will get access to the following files:
Some Small Games - 2018-11-29.pdf
399 kB
Physical & Community Copies
Support this game at or above a special price point to receive something exclusive.
Community Copy
Select this to claim one of the free copies of the game that have been donated by others.
Community Copy Donation
Select this to donate 1 PDF copy of the game for every $1 you pay. You'll also get access to a copy for yourself.
Physical Copy
Select this to receive a printed copy of the zine in the mail.